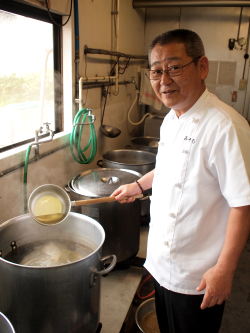 勘場氏
There once was a man who rode a tuna fishing ship with his father.
His name was Akira Kanba. He was the man responsible for making "Tuna Ramen " so populariinJjapan. First of all, why did he create the "Tuna Ramen"?
It all began when Mr. Kanba ate a dish (served only for the crew) on the tuna fishing ship, which had slices of raw tuna on a hot bowl of rice, which he thought was delicious.
A few years passed since he got off the ship and a thought came into Mr. Kanba's mind.
"What if I used noodles instead of the rice?"
This was the beginning of Mr. Kanba's battle.
The first problem he tackled was to get rid of the raw fish smell. Because he was so stubborn about using the best ingredients, he failed many times which almost drove him to quit. When he was just about to give up, some advice he received from his wife Shoko helped him overcome his problems. Much time passed, and after many failures and successes, finally, the "Tuna Ramen" was born.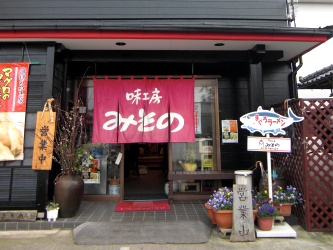 まぐろ拉麺発祥の店「みその」
"The noodles are made especially to match the soup and the slice of tuna is packed with delicious taste."
"The wasabi changes the soup completely."
A big bowl of ramen made in the little town of Kushikino of the Kagoshima prefecture.
Please enjoy the huge amazement served in only one dish.
Mr. Kanba's spirits have cheered up the community and are even going global. Try the "Tina Ramen" at "Totoya", a new global standard.
The only place you can find the "Tuna Ramen" is here are "Totoya"
Please enjoy MGURO RAMEN at the restrants listed below.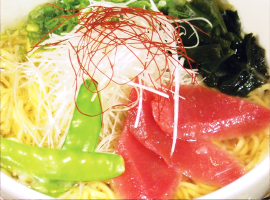 1.The slice of tuna
The slice of tuna topped on the ramen will differ in how it is cooked by time. Please enjoy it at the timing you prefer best.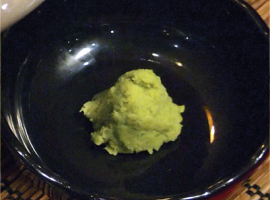 2. The soup
By adding wasabi, the soup will change and you can enjoy it in two different ways.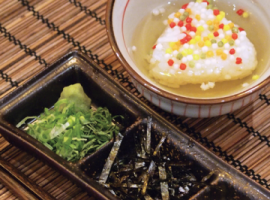 3. Ochazuke
If you order the "Ochazuke set" with the noodles… you can enjoy the special "Ochazuke" only available with the "tuna ramen" soup.


KagoshimaCity/Sakurajima